Gsped, a story about things that move
You sell it, you deliver it
When you sell tangible products, you need a way to move them from the warehouse to the store or directly to your client. If we are only talking about a small amount of goods, then you can probably manage doing that on your own, driving a van around town. A little more and it starts to get overwhelming…
Many businesses therefore have to use the services of delivery companies such as DHL, FedEx, TNT… and that's when it gets difficult.
Overhead, overhead…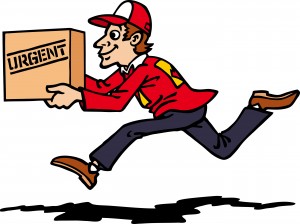 First, before shipping your package, you need to store it somewhere, so you have to rent a warehouse. Then you need to sign a contract with a courier company. If you are a relatively small business, you don't move around too much stuff and so they charge you higher prices (no volume discounts). And after you give a package to the courier, your job doesn't end there — you need to keep track of it, making sure it gets to the client; you have to intervene if for some reason it is late or goes missing (because the client is going to blame you!) — and it is really hard for a small business to communicate efficiently with a huge company such as the ones I listed above.
Outsource your worries
Omnilog is an innovative Italian logistics company that solves these problems for you. They provide you with storage space, they place themselves between you and the courier company, and do all the dealing with the couriers on your behalf. So you just need to give your package to Omnilog and they will pick the cheapest, most efficient service; they will follow up on your shipment to make sure it arrives; and they will assist you in resolving any problems if, for some reason, it does not arrive on time.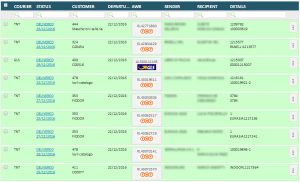 Omnilog's online delivery tracking portal – branded Gsped – was a challenging piece of work. It includes a sophisticated back-end for use by their central office and by their clients. On that back-end you could see up-to-date information about every shipment, its sender and recipient, and its tracking status. The database is color-coded, with late or problematic shipments in yellow or red. It includes advanced search capabilities and quick access buttons that let you go to the courier company's website, or email the sender and recipient. Additional advanced functions include sending out automatic emails that get sent out at specific moments – for example, one day after a shipment is delivered, or if it's three days late, etc. The website can also automatically calculate shipping costs given a certain shipment weight and destination, it can print labels for your boxes, and do many other useful things.
To date, this is probably the most advanced web-based application that I have ever built, and I still maintain it and develop new features together with their in-house developers. It was a very challenging piece of work and I am proud of it!